UPCOMING EVENTS
BC Football Gamewatches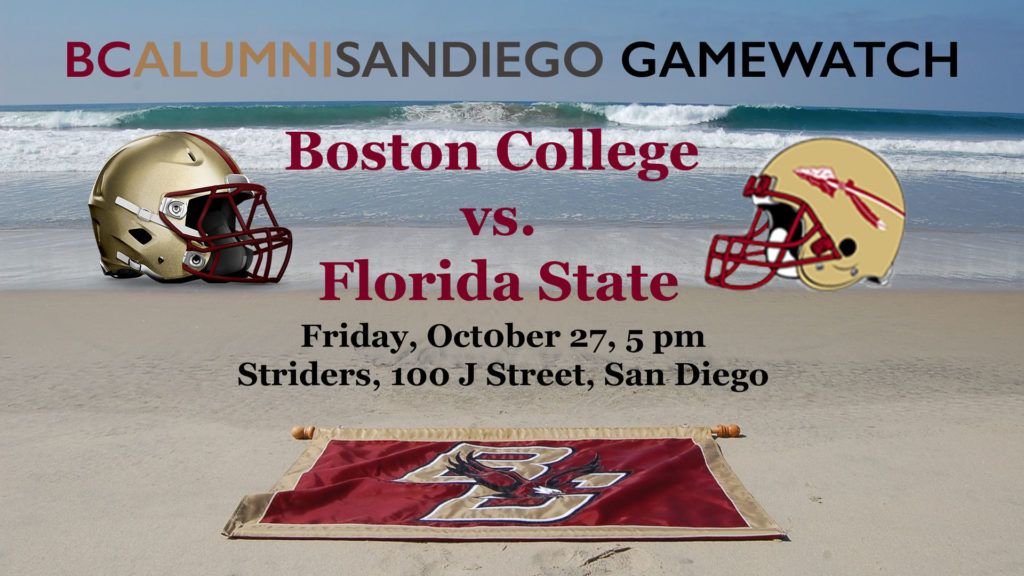 New location for the gamewatches is Striders, 100 J Street, San Diego.
Upcoming gamewatches
Saturday, November 11 — NC State
Saturday, November 18 @ 4 pm — UConn (Fenway Park)
Saturday, November 25 — Syracuse
All Chapter Meeting–October 30

Have you been meaning to get involved with the local BCAlumniSD chapter? Do you have an idea for a great event? Do you have a little time and would like to see how you can participate and contribute? Do you want to network with local Eagles?
Now is your chance to get your voice heard!! We are holding an All Chapter Meeting Monday, October 30th at 6pm at Rough Draft Brewing Company in Miramar.
See you there! Questions, email bcalumnisd@gmail.com
Always an Eagle — November 5
Save the date for our Always an Eagle event on November 5. Welcome the Class of 2017, honor the Golden Eagles (Class of 1967) and reminisce with fellow alums in a Boston-centric venue — Green Dragon Tavern and Museum, 6115 Paseo del Norte, Carlsbad.
All are welcome! If you know of a fellow Eagle in town who hasn't connected with our network of San Diego Eagles, this is an excellent opportunity to invite them to join us!
This is a complimentary event for the Class of 2017. For all others, $25, which includes lunch and one(1) drink ticket.
Register here.
OPPORTUNITY
Volunteers Needed!
Are you passionate about a Catholic Jesuit education? Do you have 2-4 hours a month at some point over the next year? Cristo Rey San Diego High School needs your help! See details below:
Cristo Rey San Diego High School will soon be a part of the largest network of high schools in the country that exclusively serve low-income youth.
Currently, a Feasibility Study is underway to assess the need and support for a Cristo Rey school in San Diego. As part of this study, the Feasibility Study Committee is surveying community leaders, potential students, and potential parents.
Volunteers are needed to help with Community Surveys.
Ideal volunteers would have:
Public speaking skills
Volunteer will present the Cristo Rey model to potential parents (parents of current 6th graders)
Volunteer will present the Cristo Rey model to potential students (current 6th graders)
Time in order to present and give/collect surveys to parents, and students
During school hours at public, charter, and catholic schools,
And/or After school hours at schools and community programs,
And/or On Sundays at parishes, after mass and during CCD.
Fluency in Spanish would be helpful but not necessary
Ties to the local community would be helpful but not necessary
All materials and training will be provided. To get involved or learn more, contact maria@cristoreysandiego.org.