Following BC's 45-7 loss to Florida State Friday night, the Boston Globe said the "the monstrous gap between the Eagles and their competition in the ACC couldn't be more apparent."
This was BC's 6th loss in 7 games against ACC opponents this season and 14th loss out of the last 15 games against ACC opponents. Due to the presence of teams like UMass, Wagner, and Buffalo on the schedule earlier, the Eagles have a 4-6 record and, with wins in the final games against UConn and Wake Forest, would qualify for a post-season bowl.
From 1999 through 2015, BC lost 4 games by 30 points or more. The Florida State loss was the team's 4th such loss this season. The Eagles have been shut out 4 times in the last two season. They had 60 games 2010-14 in which they were not held scoreless.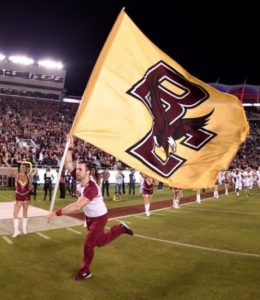 As for the game itself, the highlight for BC might have been just running out into the stadium in front of 74,000 fans and thinking out great it would be to upset the Seminoles on national television. Alas, when Richard Wilson scored a touchdown for BC with just over 3 minutes left in the game, Florida State had 45 points on the board. It was 21-0 at halftime.
The Eagles gained a total of 146 yards in the game. They rushed for 96 yards, 39 of which came on a 39-yard run by Myles Willis in the first quarter. Quarterback Patrick Towles was 3 of 11 for 29 yards. Florida State had 24 first downs to BC's 8, and gained 416 yards overall.
Game video (It is all Florida State. Duh.)
Basketball/Hockey roundup
Last year, the BC men's basketball team matched the football team in going winless in conference play. With 10 more chances than the football team to win (18 games vs. 8), the could be considered even more egregiously bad.
But it's a new season, right? BC opened its season yesterday at home against Nicholls State (that's that school in Thibodaux, Louisiana). Never behind, Nicholls State beat BC 79-73. Details unbecoming.
Women's basketball traveled to Connecticut for its opener and lost 65-56 to Hartford.
Women's hockey swept UNH this weekend, after splitting with BU the previous weekend. BC is 9-3-2 overall and 8-2-0 in Hockey East. As of November 7, they were ranked #6 nationally. The men's hockey team, meanwhile, moved up to #3 in the country, as of November 7, and have compiled a record of 9-2-1, 5-0-1 in Hockey East.