Rebecca Reid submitted the following report on the two brunches held recently.
Alumni met at Davanti in Del Mar on June 11 for a fantastic midday and the first in a series of brunches.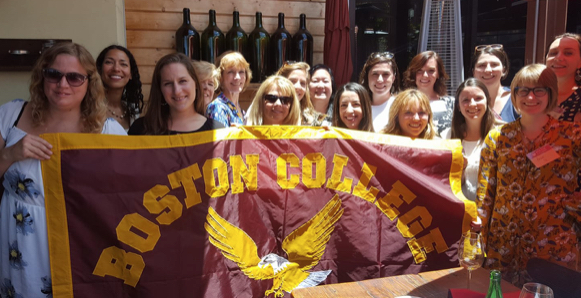 Everything started in the spring when Zeynep Barakat suggested hosting a women's get-together to Lissa Tsu, current leader of the San Diego Chapter. Joining Zeynep and Lissa at the initial brunch were Wendy Fai Roos, Erin Holmes Carpenter, Rebecca Reid, Mary-Lou Kiley, Jodi Cilley, Lea Freeman, Christine Duggan, Rachel Cunningham, Martha Acosta, Anne Kornahrens, Holly Ann Juarez, Jessica Ipolito, and Kate Beaver. The ladies introduced themselves, with brief backgrounds. The group included educators, accountants, and a dentist, and many of the alums are entrepreneurs. On the patio, the ladies reminisced and each presented a special highlights from their years at Boston College.
Davanti is a central location for many of the female alums. The menu featured delicious breakfast staples and spectacular treats like lemon ricotta pancakes and Italian donuts called bombolonis. The bottomless mimosa and bloody mary bar provided a variety of libations, including outrageous garnishes.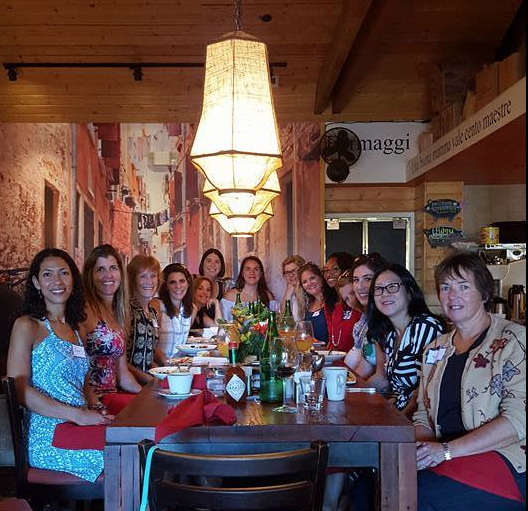 The June event spawned a second brunch on October 23. Davanti was again chosen. Sitting inside at the common table, the ladies again enjoyed the hospitality at Davanti. In attendance again were Lissa, Zeynep, Erin, Rebecca, and Mary-Lou. New alums to the brunch included Mary Berube, Nikki Knight Ramsay, Susan Hamilton McNab, Jennifer Wong Gatewood, Sarah Cockerill, Jocelyn Campese, Lisa Giorlamo, Jenny Lockheimers, and Julia Leone.
Nikki and Erin, former co-leaders of the San Diego Chapter, shared stories of events past. Introductions all around found more entrepreneurs and a social worker. The group discussed how the BC curriculum shaped each of their careers. All the ladies loved the Davanti mascot, Porky.
Come join us at the next brunch, February 18, again at Davanti!