Men bow out in conference final
With less than a minute remaining and the Eagles down 4-3 to UMass Lowell in Saturday's Hockey East Tournament final, Ryan Fitzgerald's shot clanged off the crossbar behind the UMass Lowell goalie. The comeback from a 4-2 deficit ended, as did the Eagles' season.
Finishing 21-15-4 (13-6-3), the Eagles missed the NCAA Tournament for the first time in 8 years, falling just outside qualification. It was, however, the 8th consecutive season BC has won 20 games or more, 3rd longest such streak in the nation behind Denver and North Dakota. The Eagles were among 3 teams tying for the this season's Hockey East regular season title.
BC had beaten BU, for the 1st time this season, 3-2 the previous evening. In the title game, the Eagles outshot UMass Lowell, 41-25.
San Clemente's Scott Savage and Austin Cangelosi were named to the All-Hockey East 3rd team, while freshman goalie Joe Woll made honorable mention.
Women lose heartbreaker in Frozen Four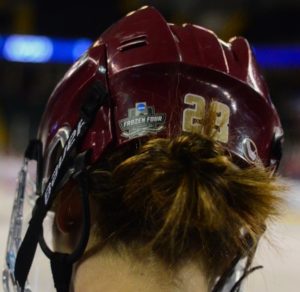 With 16.2 seconds remaining in a scoreless tie, #1 Wisconsin scored to defeat the Eagles in Friday's semifinal of the NCAA Tournament.
Junior goaltender Katie Burt had made 35 saves, one shy of her career best, to that point, but it was the Badgers who advanced to the NCAA championship final. BC had 22 shots on goal, compared to Wisconsin's 36.
BC entered the game ranked #4 and finished with a 28-6-5 record. Junior defenseman Megan Keller was named 1st team all-America for the second straight year. Keller was the only Hockey East representative on the 12-women all-America team. Earlier she had been named the first defenseman to win the Hockey East Player of the Year award.