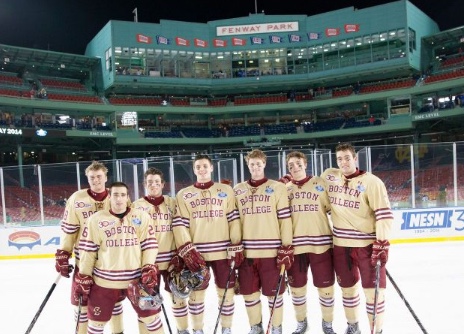 In a game postponed one day because of a snow storm, BC men's hockey team defeated Providence, 3-1, today in the second game of a "Frozen Fenway" doubleheader. A sparse crowd braved what felt like single-digit temperatures to watch the Eagles come back from a goal down to win. BU defeated UMass in the opener.
The day delay helped BC in that goalie Joe Woll and forward Colin White had another day of acclimation after they helped the US win the World Junior Hockey Championship in Toronto Thursday (item below).
Ryan named all-pro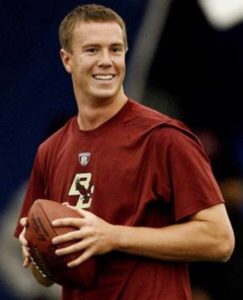 Matt Ryan '08 was named quarterback on this year's Associated Press all-NFL team. He edged out Tom Brady of the New England Patriots to be all-NFL quarterback for the first time in his nine-year NFL career.
Many suggest Ryan may also overtake Brady in the contest for the NFL's most valuable player this season, to be announced February 4, the day before the Super Bowl.
Eagles help USA win World Juniors
BC hockey forward Colin White scored the tying goal in the World Junior Hockey Championship game against Canada Thursday. White's goal made the score 4-4, which was the score at the end of regulation. USA won the game and championship in the shoot-out.
BC goalie Joe Woll did not play in the championship, but was the USA goalie in its 3-1 victory over Canada in the preliminary round, December 31. He stopped 25 Canada shots.
White led USA with 7 goals in the tournament, tying for second in total points.
Eagles fall in ACC games
The men's basketball team lost at Duke, 93-82, falling to 1-2 in conference play. After beating Syracuse at home, 96-81, on January 1, BC left friendly Conte Forum and lost at Wake Forest, 79-66, Tuesday.
BC's women's basketball team also won its ACC opener, 60-48, over Clemson on Tuesday, but have since fallen to Pittsburgh, 56-43, and today to Syracuse, 79-52.