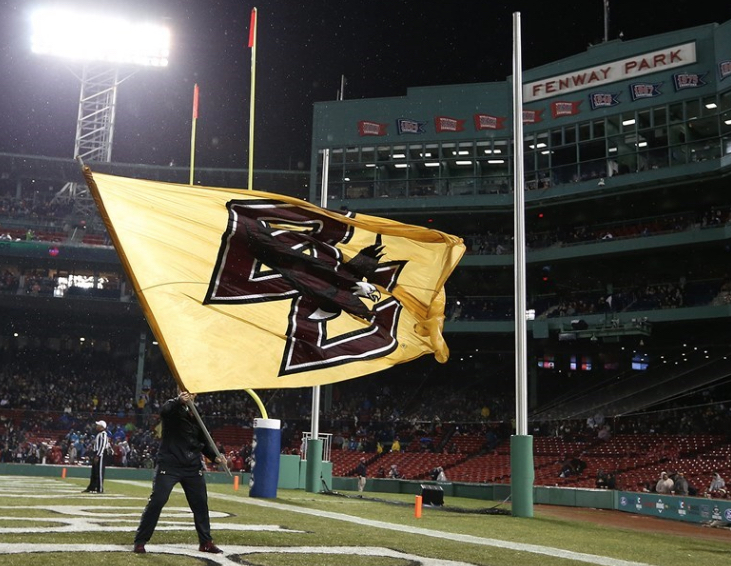 The University of Connecticut had never beaten Boston College in football. That status continues (BC is 12-0-2). Yesterday, hosting BC at Fenway Park, in front of 20,000 cold and wet fans, the Huskies gained more yards than the Eagles, possessed the ball longer, passed for 2 touchdowns of more than 40 yards, and still lost by 23 points, 39-16. Indeed, the Huskies' 2 long touchdowns came in the last 6:31 of the game, after they had trailed 39-3.
BC's win brings its season total to 6, which makes the Eagles bowl-eligible for the 4th time in coach Steve Addazio's 5 seasons. BC is 6-5, 3-4 in ACC play, with one conference game to go. UConn fell to 3-8.
After the 1st quarter, during which UConn went up and down the field for more than 10 minutes, gaining 172 yards, the Huskies had only 3 points on a field goal. BC exploded for 33 points in the second and third quarters, mostly on the running of "the beast," true freshman A.J. Dillon, who had a "monster" game. (Get the theme?)
Dillon added to his BC freshman rushing record, gaining 200 yards on 24 carries. His highlight was a 53-yard run for a touchdown in the second quarter, when he dragged 4 UConn defenders into the endzone. He scored again on a 20-yard run in the third quarter. Junior Jon Hilliman gave Dillon, but certainly not the Huskies defense, a breather in the fourth quarter, gaining 107 yards on 10 carries and scoring once.
BC had only 64 offensive plays for the game for 385 yards. UConn gained 412 yards on 74 plays. The Eagles ran on 49 of their 64 plays, and on 22 of their 26 plays on first down. Passing, QB Darius Wade was 7 of 15 for 55 yards and a touchdown.
It was not a good day for BC's erratic kicker, Colton Lichtenberg. The natural grass field, wet and windy conditions, and bad holds may have been factors, as Lichtenberg missed his one field goal attempt badly and also missed his last 3 point-after attempts.
Highlights
BC finishes the regular season next Saturday at Syracuse. Game time 9:20 am PT.