Last night, Florida State held BC to under 40 points for the first time in its last three games . . . and lost by 32. The improbable Eagles soundly beat the Seminoles, 35-3, for the first time since 2009. BC won its 3rd consecutive conference game, something it had not done since 2013. It was a night meant for fireworks.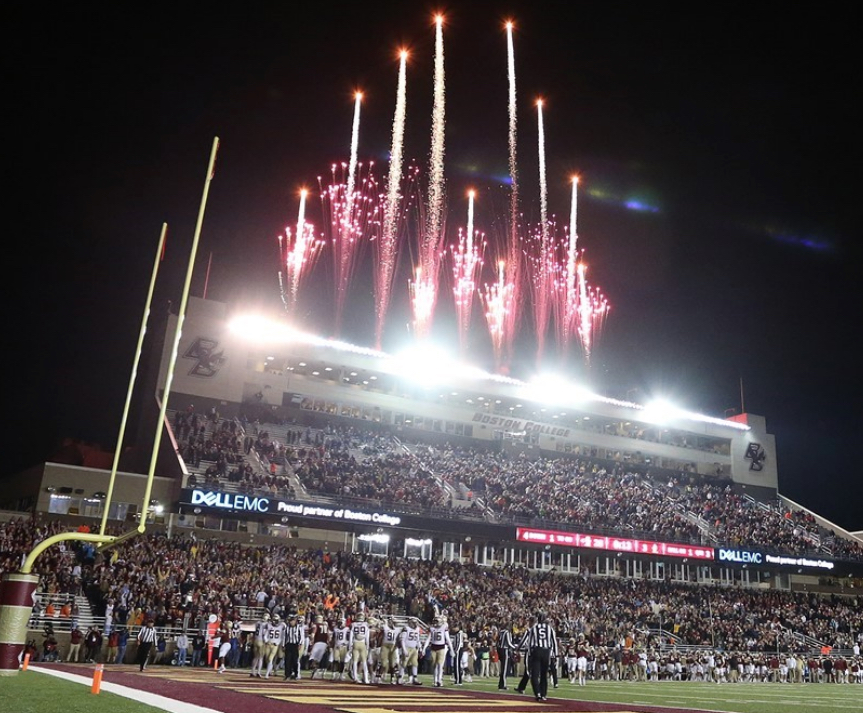 Eagles fans, mostly students, stormed the field following the victory. While the win should not be considered among the biggest in BC history, this was the first time most students currently at BC had seen the Eagles beat any ACC team at home (there was a win, but during Thanksgiving break). A little slack on the perhaps excessive celebration is warranted.
BC moved above .500 for the season at 5-4 and reached 3-3 in conference play. The only winning record previously this season was at 1-0 after the opener.
The Eagles' offense was more efficient than abundant, being provided short fields for some of their scores. Overall, BC had 76 plays for 329 yards, 241 of them gained on the ground. Freshman running back A.J. Dillon added 149 yards on 33 carries to bring his team-leading season total to 843 yards. Quarterback Anthony Brown was only 6-20 passing for 54 yards, but both passed and ran for a touchdown. WR, and former quarterback, Jeff Smith was 1-1 passing, with a scintillating 34-yard touchdown pass to Kobay White.
BC's defense held Florida State to 213 yards total offense, only 64 yards rushing. The Eagles had 20 more offensive plays than FSU and possessed the ball for 10 minutes, 30 seconds, longer than the Seminoles. Florida State lost 2 fumbles, had a pass intercepted, and incurred 7 penalties for 71 yards. The Eagles had no fumbles, no interceptions, and 1 penalty for 10 yards.
Maybe it was the spirit of Welles Crowther infusing the evening that was the difference-maker. Last night was the annual "Red Bandana" game, honoring the life of the 1999 BC grad who — wearing the red bandana he carried with him and had worn throughout his athletic life, including as a lacrosse player at BC — was credited with saving several lives in the World Trade Center during the attacks of September 11, 2001, perishing in the effort. Below is an ESPN feature about the story.
BC players and fans also wore red bandanas in tribute to Crowther. At the San Diego gamewatch, we joined in.
One major story of the college football season so far is the decline of Florida State. Picked #3 pre-season, the Seminoles lost their opener — to Alabama, 24-7 — and their starting quarterback. Since then, Florida State has beaten only Duke and Wake Forest, falling to 2-5 for the first time under coach Jimbo Fisher. The Seminoles need to win out, including a victory over Clemson, to become bowl-eligible, putting a 35-year bowl streak in jeopardy. It was a BC victory to treasure, but it was also a win over what seems a "wounded" team.
Highlights!
Bye week coming up. Next game is November 11, against N.C. State in Alumni Stadium, time to be announced.