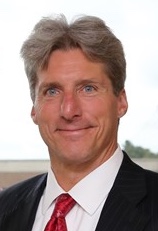 Athletic Director Brad Bates, who took the position in 2012, announced today he will leave BC at the end of the academic year.
Bates came to BC from Miami of Ohio where he had been athletic director for 10 years. He previously spent 17 years in the athletics department at Vanderbilt. He is an alumnus of and former football player at Michigan.
Bates hired both football coach Steve Addazio and men's basketball coach Jim Christian at BC. The football team is 24-27 under Addazio, 10-22 in the ACC, with bowl appearances in 2013, 2014, and 2016. The men's basketball team is 9-18 overall and 2-11 in the ACC this season. It went 13-19 in 2014-15 and 7-25 in 2015-16.
BC said it would begin a national search for a replacement, with the assistance of an executive search firm. Bates is to join Collegiate Sports Associates, a consulting and executive search firm based in Chapel Hill, N.C.