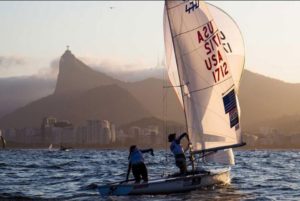 BC sailors Annie Haegar '12 and San Diego's Briana Provancha '12, representing the US, finished out of the medals in the women's 470 (dinghy) event today at the Rio Olympica.Though they had ranked as high as 4th in the standings during the 10-race preliminaries, Haegar/Provancha finished 10th and last in today's medal race to finish 7th overall.
The gold medal went to the team from Great Britain, with New Zealand taking the silver and France the bronze. Also finishing ahead of the US were Netherlands, Japan, and Slovenia.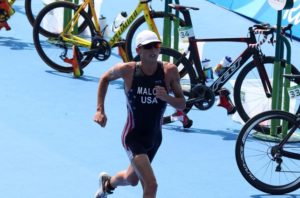 Fellow Olympian and Eagle Joe Maloy '08 (right) also competed today, finishing 23rd overall in the men's triathlon. He was the highest-placing American in the competition, completing the swim-bike-run course in 1:48.30.
Maloy, a swimming standout at BC, had finished 6th at the ITU World Triathlon Gold Coast in April, the highest position by an American in the past four years.
These Eagles were among 17 former BC students participating in the 2016 Summer Olympics.
Go Eagles!