BC's hockey team is in the Frozen Four!
The Eagles beat Minnesota-Duluth, 3-2, Saturday to advance to the final four of the NCAA hockey tournament in Tampa, Fla. BC plays overall #1 seed Quinnipiac in the early semifinal game, 2 pm PT,  Thursday, April 7.
A gamewatch during a workday afternoon is not feasible, so we will await the Eagles' potential appearance in the national final Saturday, April 9, 5 pm PT.
BC went out to a 3-0 lead over Minnesota-Duluth and then held on for the 3-2 final score. The Bulldogs scored twice in the latter part of the final period and had a great opportunity for the tying goal. Photo below shows BC goalie Thatcher Demko and forward Austin Cangelosi eyeing the puck, before Cangelosi swept it from the goal line with his stick.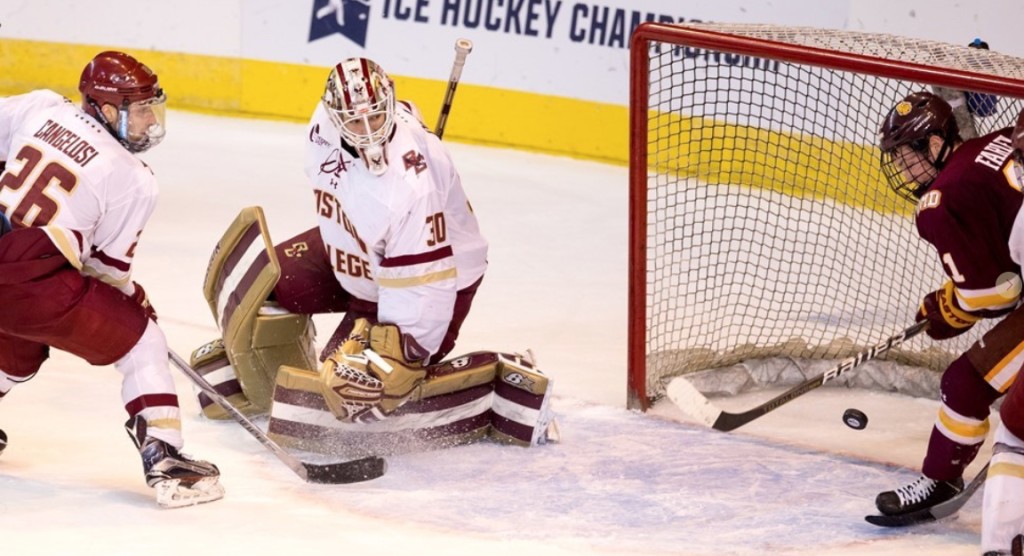 The Eagles will play in the national semifinals for the 25th time, the most of any college hockey team. This will also be the 12th time in the last 19 years that a BC team coached by Jerry York will be in the Frozen Four. BC has been in the championship game 8 times over that span, and has won 4 championships (2001, 2008, 2010, 2012).
Go Eagles!