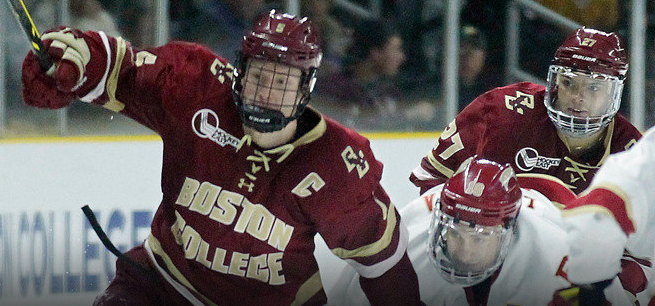 Spring is here, winter is over, and so is hockey.
The BC men's team, seeded #3 in the East Regional of the NCAA tournament, fell to #2 seed Denver, 5-2, Saturday.
The Eagles finished with a 21-14-3 overall record, and, in a break from long tradition, no tournament trophies. No Beanpot, no Hockey East regular season or tournament crown, no NCAA Frozen Four or championship. It is a statement about what is expected from BC hockey that only making the national tournament is not considered a particularly good season.
Spring sports — lacrosse, baseball, softball — are underway, sometimes facing weather difficulties, of course. The #2 women's lacrosse team lost its first of the year to Virginia Saturday, but is one of the nation's best teams. Baseball swept Duke last weekend but is at 11-13, and softball is at 15-13.
Results on the sports page will be updated soon.