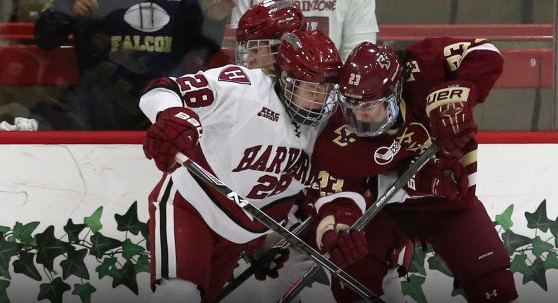 For the first time in several years, there is no Beanpot trophy on the Heights.
After the men's team lost to Northeastern in the opening round, the #1-ranked women's team took its unbeaten record into the arena at Harvard Tuesday, February 10, but lost 3-2 to #4 Harvard, a team BC had beaten 10-2 earlier in the year.
BC's men's team had won the five previous Beanpots and the women were defending Beanpot champions before this season's Beanpot drought.
Against Harvard, BC took a 1-0 lead less than two minutes into the game and outshot Harvard 32-17 in the game. BC advanced to 2-1 but Harvard came back to tie the game and then scored the winning goal when BC's all-everything Alex Carpenter was in the penalty box for a five-minute major penalty.
The BC men's team plays in the Beanpot consolation against Harvard on February 23, as the men's tournament was recheduled because of perpetual snow.