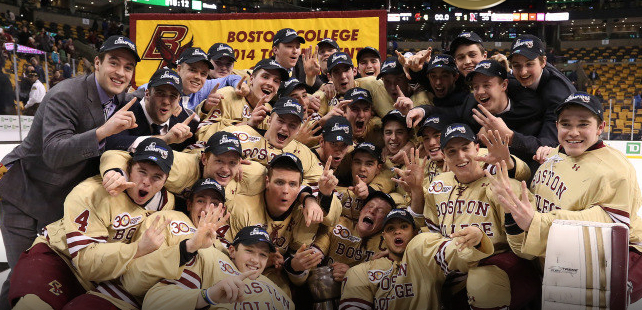 The BC men's and women's ice hockey teams both won this year's Beanpot. The #1 men's team beat Northeastern, 4-1, and the #7 women's team also beat Northeastern, 3-0. It was the fifth consecutive Beanpot championship for the men and the fifth overall for the women, all those coming in the last nine years.
Men: BC 4, Northeastern 1
With his rear end on the ice, BC captain Patrick Brown tipped a shot/pass past the Northeastern goalie with 5:30 remaining in the Beanpot championship game Monday, Feb. 10, to give BC a 2-1 lead. The goal ended up the game-winner as the Eagles also scored into an empty net and on a breakaway in the last 1:16 to end the game 4-1 victors.
The #1 Eagles won their fifth consecutive Beanpot championship. They outshot the Huskies 41-30. Freshman goalie Thatcher Demko, from San Diego, won the Eberly Award as the goalie with the best save percentage, .966, second-highest in the history of the Beanpot. Senior forward Kevin Hayes was named tournament MVP.
Coach Jerry York, leading BC to its eighth Beanpot crown, ties Snooks Kelley as BC coach with the most Beanpot wins.
BC has an overall record of 22-4-3 and is 14-0-1 since the beginning of December. With victories over BU in the opening round of the Beanpot Monday, Feb. 3, and a 6-1 win over Merrimack Feb. 7, BC jumped ahead of previous #1 Minnesota in the national rankings that came out Feb. 10.
Women: BC 3, Northeastern 0
Senior Taylor Wasylk's first period goal proved to be the game-winner in the shutout victory at Kelley Rink, Conte Forum, Tuesday, Feb. 11. (The women's Beanpot Tournament rotates among the home ice rinks of the participants. BC has won the last three Beanpots it has hosted.)
Goalie and co-captain Corinne Boyles stopped 25 shots in her third shutout of the season. Two power-play goals in the third period by Meagan Mangene and Melissa Bizzari completed the scoring.
Waslyk was named tournament MVP and Boyles won the Joe Bertagna Goalie Award.
BC women's ice hockey is 21-5-3.
Go Eagles!